ABOUT
Vijendra Singh Chouhan
Born and brought up in Rajasthan, I now call New Delhi my home. After spending more than a decade travelling the globe as a biker, I decided to follow my passion and help others to see the best of India on a bike. I wanted to navigate the journey of others and therefore have initiated a guided cycle tour in India.
Since the inception of my tour company 'Cyclomania In India'in 2014, I am doing what I am best at! With years of planning and vast knowledge, I take pride in offering the most bespoke bike trips in India where I accompany people to pedal and experience unforgettable moments.
The joy of beholding the sight of panoramic beauty when mixed with fresh air and a little bit of sweat, the most cherished moment are created. Tourists who have a passion for cycling in India surely enjoy the meticulous trips designed by our fledgling company. In the true entrepreneurial fashion, I designed the itineraries and managed a nearly consistent growth to explore the surreal non-spoilt beauty of rural India on the pace of a pedal.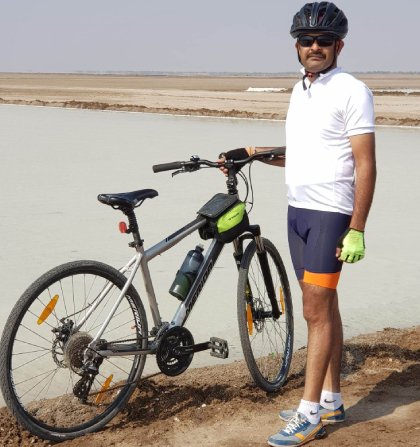 Why Choose Us?
More than 98% of the travel fanatics from across the globe agreed that they would definitely get back to Cyclomania in India. Our guided tours are a haven for cyclists. With our personalized itineraries, tourists are spoilt for choices.
Over the years, I have managed to create a team of like-minded adventurers. You can surely choose us for the best bike trip in India as we are aimed for nothing but perfection. The itineraries planned by Cyclomania In India boast the most positive reviews. By choosing us you can attain variety of benefits, such as:
For the ultimate joy of discovering the mystical realm of India, nothing works better than a bike tour. For more information on our guided bike tours and thoughtfully crafted itineraries, you can find me on the contact us.

Pay less and explore more

Superb meals and accommodation
My Team
My team comprises of young and talented individuals who are equally passionate about the breath-taking beauty of India and bikes. I am lucky enough to have the best local guides that assure that your bike tour in Indiawill be the right mix of touring indulgence and local delights. To take your fancy to the jaw-dropping and unspoilt views of rural and peaceful India, I have more than 100 local guides and bike escorts scattered all around the country.
What Do We Offer?
I believe the world is best experienced at a slow pedalling pace. Therefore, we make slow-paced itineraries to help you explore the cultural attractions, dining experiences and of-course the village trails. Pick us for your next cycling vacation as we host one of the best bike trips in Indiacustomized for solo bikers, friends, and even families.
Vast Range Of Bike Tours
We have bespoke itineraries for everyone. For instance, the splendid view of willows and poplar trees on both sides of the village trails in the LehLadakh bike tripcan be experienced by novice bikers in a short 3-day trip and the same can be expanded to a trip of 21 mesmerizing days for advanced cyclists.
Secret Local Hotspots
Without a slow-paced touring, you would simply miss out on the mystical beauty of India. Be it a Leh Ladakh bike trip from Delhior the colourful Portuguese colonies of Goa, we guarantee you to stroll around the quietest roads and get amazed by the best-unexplored places in India with our 50+ itineraries.
Professionally Maintained Bikes
Touring bikes, e-bikes, hybrid bikes, you name it we have it. All our rental bikes are of high quality models and handled by professionals to ensure that a tight ship is maintained before your start the best bike trip in India with us.
---
---
A Wealth Of Experience
We have staffed more than 100 local guides and take pride in our knowledge and guided itineraries. With my eagle-eyed quality checks, I assure my guests the best scenic views and most unforgettable encounters. From sightseeing, trail selection and lodging, we cater the best of everything to ensure that our guests would surely come back.
---
Value For Money Services
Don't want to shred thousands on a cycling tour? Being a solo traveller I know the importance of just letting go and travel on a low budget. Therefore, we have decided to come up with specifically designed packages to offer the best quality services at a hard to believe price. With our unique itinerary you get a different experience to visit the most inaccessible places and that too on a budget.